Today we would like to draw your attention to a workshop. Alexander Pinker has been supporting the Silicon Vilstal initiative for three years now.
Silicon Vilstal is a regional participatory initiative on the topics of innovation, entrepreneurial spirit and creativity northeast of Munich, around Vilsbiburg and Geisenhausen. The event will be realized by an honorary team, to which Pinker also belongs, and made possible together with people, companies, institutions and media from the region and far beyond.
The programme captivates with its international experts, initiatives from all over Germany and exciting regional players.
On Saturday, September 22, 2018, our workshop on "Future trends – how robotics, artificial intelligence and automation can change our everyday lives and jobs" will take place from 2 p.m. to 5 p.m. at the Bavarian Trachtenkulturzentrum in Geisenhausen. Our world is changing. We are hearing more and more about the increasing automation of work and everyday life. But is the arrival of robots and virtual assistants a curse or a blessing? In this workshop, innovation profiler and future strategist Alexander Pinker gives an insight into the current state of technology and takes the participants on a search for the current opportunities behind the technology trend.
Further information about the festival, which will take place from 21 – 23 September 2018, can be found here!
The future is determined by our actions. More and more companies are recognizing a digital shift and deciding that they must move with the times to avoid disappearing from the scene sooner or later. As a Future Consultancy it is our task to sensitize companies not to hide behind old processes, but to openly approach the world of tomorrow.
Through the lecture and workshop "Looking for the Traces of Change" at Monday@Henley at Henley Business School Germany Alexander Pinker wanted to inspire the participants of the future and motivate them to play a central role in it.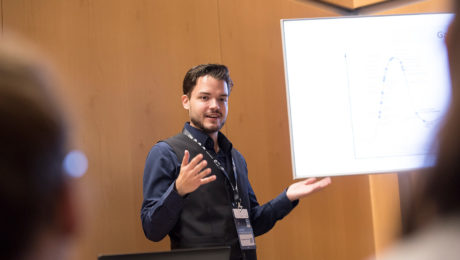 In addition to the keynote speech at the Media Days 2017, Alexander Pinker was also able to give an insight into the potential of innovation technologies and trends.
Following the presentation by Innovation-Profiler Alexander Pinker, he gave visitors to the MedienCampus a deeper insight into the opportunities of an innovation culture. An innovation management workshop dealt with personas, brand eggs and the right way to conduct a consumer interview.